Brainy Quote
I love words. And quotes especially. This is my favorite quote page. They are arranged intelligently too. The only thing I don't like is that they have a preview that you have to click through to get to the entire quote, rather than showing all the quotes on one page, which if you have a decent internet connection, is much faster. Bu they are organized really well here.


Dictionary.com
When my computer is on, which it is pretty much all day, looking things up online is so much faster than dragging out my several pound, six inch thick Webster. This site gives meanings from several different dictionaries, which I really like.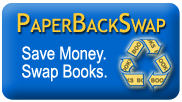 Paperback Swap is a terrific way to get rid of books you don't want, while finding some that maybe you do. I was wary of it at first, because frankly I am looking to get rid of books and not necessarily looking to get new ones, but now that I've joined, I'm really enjoying it.

The idea is that you give away books, and pay for the shipping, while earning credits to get books from other people who pay for the shipping.

When you first sign up you need to list nine books, and for that you get three free credits. Once people start requesting your books, you get one credit for each one you send out. This has already worked for me just in the fact that I got a copy of The Four Agreements simply by signing up. I'm also looking forward to receiving a copy of one of Rosie O'Donnell's books (Find Me) any day now and just received a book called Intuitive Tarot: Discovering and Reinforcing the Power of Your Intuition : Using the Tarot As a Tool
.

One thing to watch out for: books that are heavy and cost a lot to mail. I got caught spending more than I wanted to for the first book I had to mail. So I weigh all my books now before listing them, so I don't have to spend more than about $1.50 to mail any of them.

If you decide to join, please use the link above; I will get a free credit once you list your first nine books. Alternatively, you could just go to the site and list Love2BHomeschoolers as the person who referred you. Thanks!


Netflix
I check my Netflix queue almost daily. We are currently participating in the program where we can have three movies out at a time, for $17.99 a month, and I can return them and get new ones as many times as I'd like within each month. Right now we have out:

1. Animal Face-Off: Lion vs. Tiger
"Ever wondered what would happen if two of the world's most feared animals went head to head in a battle? The Animal Face-Off series aims to find out. After expertly designed replicas of the animals are created to mirror exact areas of strength and weakness, the two cyber-creatures come together for a crucial showdown. In this episode, two of the jungle's fiercest predators - the lion and the tiger - duke it out to see who comes out on top."

2. Extreme Engineering: Subways in America
"Gothamites who travel on the subway beneath New York City every day have long taken the mass transit system for granted. But in this installment of the popular Discover Channel series, a closer examination reveals exactly how masterful the transportation grid truly is. Built in the late 19th century, the subterranean rail line was showing its age until the city embarked on a large-scale, intricate refurbishment project."

3. Unsolved History: Ninjas
"Modern-day ninja Stephen Hayes and a team of historians delve deep into the 16th century for a look at the storied Japanese assassins, who were as feared as they were misunderstood. Part of Discovery Channel's "Unsolved History" series, which takes a detailed forensic approach to some of history's most vexing mysteries via a painstaking examination of photographs, artifacts and interviews from experts and eyewitnesses."

As you can see, Netflix has a great assortment of documentaries, which is what we mostly use it for. Here's a list of some of what we've rented in the last few months:

Is Wal-Mart Good for America?: Frontline
Animal Face-Off: Saltwater Croc vs. Great White Shark
Thomas L. Friedman Reporting: The Other Side of Outsourcing
This Is America, Charlie Brown
Ghosts of Rwanda: Frontline
Where on Earth is Carmen Sandiego?
Raising Cain
Alaska's Inside Passage
Extreme Engineering: Container Ships
Dr. Martin Luther King, Jr.: A Historical Perspective
Terrorstorm: A History of Government Sponsored Terrorism
Thomas L. Friedman Reporting: Does Europe Hate Us?
100 Greatest Discoveries: Disc 1
Secrets of Lost Empires 2: Medieval Siege
Modern Marvels: Aquariums: Windows on a Watery World
History of the Chopper
Modern Marvels: The Great Wall of China
Robosapiens
P.T. Barnum
Alexander Graham Bell: Voice of Invention
The Viking Deception: Nova
Christopher Columbus: Explorer of the New World
Modern Marvels: Monster Trucks
Nature: Sharks
Extreme Engineering: Boston's Big Dig
Benjamin Franklin
My boys are always (well, almost always) willing to sit and watch something they would otherwise not sit still to read about, so I can slip some good "learning" in there without their knowing about it. I myself enjoy watching along with them, and sometimes get things just for myself (i.e. Thomas L. Friedman Reporting: The Other Side of Outsourcing). Yes, I could go around to libraries all over the state to find some of this stuff, but it's so much easier having it arrive in my mailbox.
They also have cheaper plans available:
2 at-a-time (Unlimited) for $14.99
1 at-a-time (Unlimited) for $9.99
1 at-a-time (limited to 2 a month) for $4.99
And more expensive ones where you can have more dvd's out too.
LuminociTees.com
Okay this is my business and I'm making some changes. I've decided to switch to Cafe Press. My store is still
under construction
, but I hope to have it done soon. The link above for my own store will be good for a while longer, but when the contract for my server space expires in September, I'm not going to renew.
I really enjoyed creating
my website
. However, I created the whole thing in FrontPage using frames, and later learned that frames can't be read by Google correctly. So paying for an ad for "Human Milk for Human Babies" on Google would bring you to my home page, rather than my page on Human Milk. Or if it did manage to bring you to the right page,
this
is what you'd see (no navigation bars). So spending money on advertising was pointless, since people didn't want to click on "Human Milk for Human Babies" in Google Ads and then have to click through my whole website to find that page. Argh.
Creating that website took me hours and hours. Hours that I have had trouble finding to do the whole thing over again. So there the site sits with no advertising, and no business. Wasting my money to keep it posted. Argh.
So I've decided to go ahead and try out a
Cafe Press store
. It was a very difficult decision to make, because I feel their prices are high (truly they are charging me retail prices to add money onto to charge my customer even more) and so my mark-up will be considerably less. My demographic is stay-at-home moms with most times limited income, so I don't want to charge too much. My personal store was cheaper than the Cafe Press store will be. And my markup will be so low I will probably have to struggle just to break even.
On the upside, I can advertise it the same way I would my own site, so hopefully once I get it all up I can concentrate on marketing. Also it will be really nice to be able to get rid of the dedicated printer (with archival inks) and heat press I have to keep around in case I make a sale. Not to mention the boxes and boxes of inventory I have of shirts to print when somebody orders one. These things take up space which I could definitely use more effectively. And finally, I will be able to sell bumper stickers, which I have not been able to do from home. (I couldn't find a vinyl which could go through my printer.)
So although it really was a difficult decision, I am decided. After I get all my artwork formatted for Cafe Press, get it uploaded, choose items for my new store, and arrange everything on the new site in a cohesive manner, I'm going to print up and adhere designs on all of my inventory and try to sell it all on ebay. Or maybe I can consign some of it. Or donate it. Or whatever. Then I'll sell the printer and heat press too. I will reclaim a 4' x 6' area of my basement. Woo hoo!
Please take a look at my
new store
, and feel free to send me your thoughts. I will certainly update you all here when it is done.